Add and Manage Affiliate Link in WordPress
Do you want to add affiliate link on your website?
Affiliate link is one of the best ways to monetize your website. WordPress has made it easy to add and manage affiliate link. It provides a lot of money to direct traffic to other website or services.
In this article, we'll explain how to add and manage affiliate link in WordPress.
What is an Affiliate Link?
Affiliate link is a unique URL that is used to promote products. It is a process of earning a commission when referring your website visitors to the product you are promoting. The affiliate URL contains ID or username attached to it that is used to track the sell. You will only earn money when the visitors click on affiliate link on your website and purchase the product.
If you want to increase your website profit then you should use the best affiliate WordPress themes to attract the visitors.
Having said that, let's start:
Add affiliate link Using ThirstyAffiliate
The easiest way to add affiliate link to WordPress is by using a plugin. We'll be using Thirstyaffiliate plugin to add affiliate link.
First of all, install and activate the Thirstyaffiliate link plugin.
Navigate to Thirstyaffiliates>> New Affiliate Links. 
Then add the title of the link in the box. I recommend you to use the product name as a title because it is easy to identify and remember.
After that add the destination URL in the box with the required reference code. You can also categorize your affiliate link using the link category panel at the right-hand side.
Now, add multiple link option such as noopener tag, referrer tag and nofollow tag.
Then click on the save link button.
Add affiliate link in Post and pages
Now it's time to add affiliate link in post and pages. You can simply use default WordPress link feature to embed this add cloaked URL, but we will add affiliate link in a post using built-in tools provided by Thirstyaffiliate plugin.
 At first, open the specific post or pages where you want to add affiliate link.
Select the text and click on the TA icon present at your editor toolbar.
Then, type the title of affiliate link on the search bar and click on it.
Finally, click on the enter icon.
Now, you have linked the highlighted text to affiliated link.
Manage Affiliate link in WordPress  
After adding affiliate link in WordPress, it's time to manage these links. Thirsty Affiliate allows you to manage affiliate link in one central place using WordPress functionality. It provides an easy interference to add, edit and delete the links.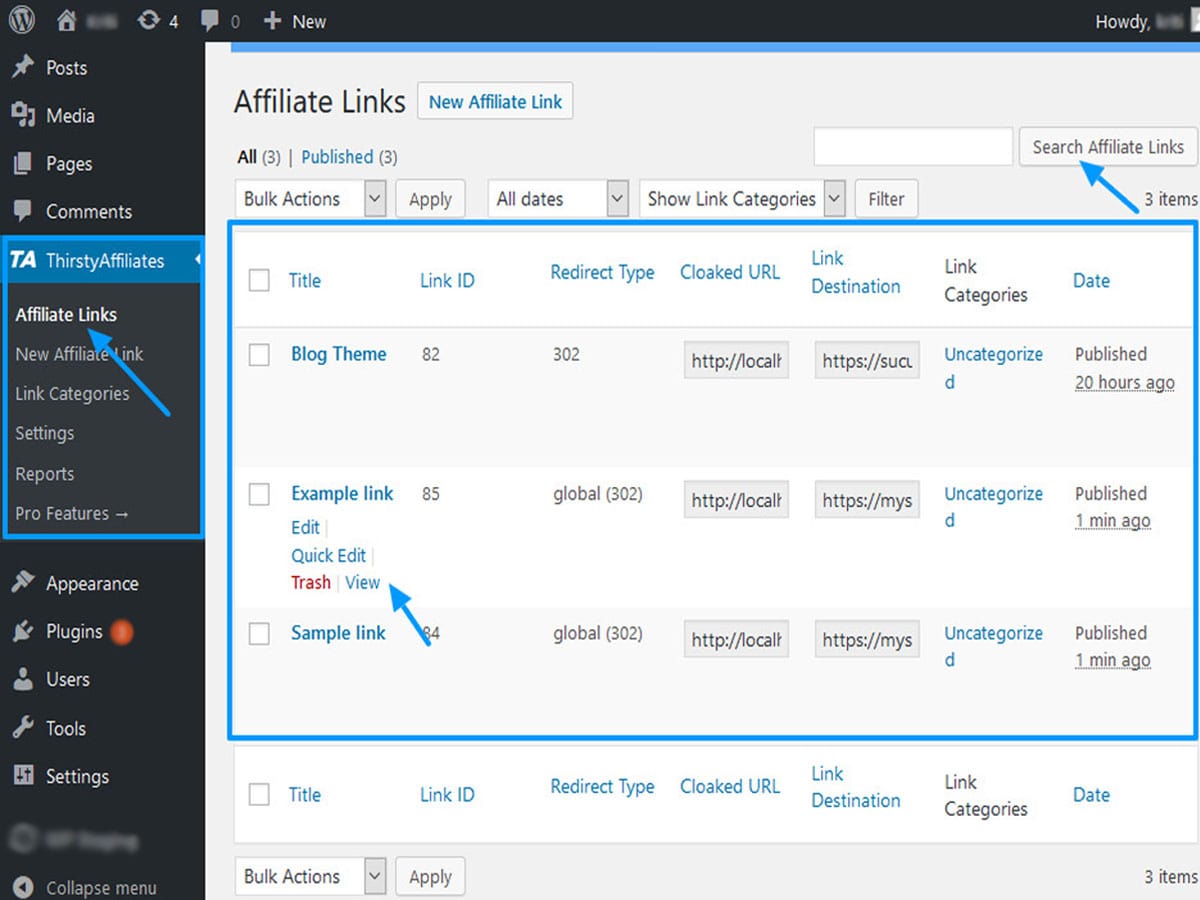 Go to ThirstyAffiliates>>Affiliate Links.
Hover over the link you want to edit then click on the edit blue link to edit that affiliate link.
Similarly, click on the trash to delete that affiliate link.
If you want to update any specific link then all you have to do is change the destination link from here. As a result of doing this, links will automatically update for all your posts.
That's all! You have successfully added affiliate link in WordPress.
Wrapping UP
To wrap up, you can add and manage affiliate link in your WordPress website by following steps mentioned above. I hope you find this article helpful.
Feel free to ask queries to us in the comment section below:
You might also want to read the following informative article: